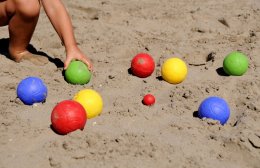 Typical beach, holiday, relaxation sport... It's bowls!

On the beach in Lignano there are several well-maintained playgrounds where you can spend some relaxing time playing bowls with family, friends and even complete strangers who then become friends.
And if you think it is a sport and a pastime for the elderly, you are wrong!

On the beach you can play bowls in Lignano Sabbiadoro at the beach office 1bis and 8 and in Lignano Pineta in several places and just in Sabbiadoro you can watch the matches of the members of A.D. Lignano Bocce, who whit a lot of enthusiasm, competitive spirit and fair play promote this sport in the city.

The bowls are a very relaxing sport for the mind and help to develop hand-eye coordination.
It does not require a special physical training, but in trains in a fun way our perception of the space.

Among a nap under the sun of Lignano and a swim, a game of bowls is great to have fun and spend some time in joy with parents and friends and also with the neighbours of beach umbrella, striking up new friendships.
At the end of the game or of the tournament, a drinks party with a good buffet for all participants is a very good occasion to get know better and continue the fun even off the beach.

Do not you believe it?
Try to play bowls, you will see that your holidays in Lignano will gain in joy!