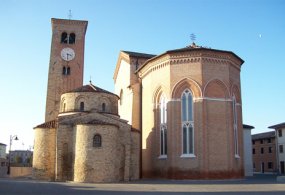 Region: Veneto
Elevation: 4 m a.s.l.
Area: 68,38 km2
Population: 10.725 (as of February 2011)
Gentilic: concordiesi
Patron: St. Stephen
Patron-Day: August, 3

Concordia Sagittaria was built in 42 BC by Romans as Iulia Concordia, where Via Annia and Via Postumia crossed each other. Quickly became a Roman town of great value, becoming between the III and II century AC a sort of military town. In this period there are strong barbarian invasions and to protect the most exposed Aquileia, troops are stationed troops in the town to move quickly to defend the city of the Patriarchs.
Thanks to the contacts with Aquileia, in the late Imperial period Concordia grows culturally: a rapid spread of Christianity and a settlement of ecclesiastical hierarchy. The devastating floods in the late sixth century investing Concordia and above the lowest adjacent areas, damage seriously the life of the city, along with the sacking of barbarians.
A revival of Concordia occurs between the X and XI century, when the Cathedral is built. But the unhealthy environmental conditions contribute to the transfer of the episcopal see in the near centre of Portogruaro, who becomes the heir of the historic diocese of Concordia.
If you want to make a jump back in time, go to Concordia Sagittaria. Here you can breathe the air of ancient Rome and live a day in a town rich in monuments, buildings, squares and Roman ruins.
Concordia Sagittaria is an ancient Roman colony with more than 2000 years of history. The Roman and early Christian finds continue to appear to this day from several excavations and you can see them both in the Archaeological Museum and along the street of the town among the Roman buildings.
Pass through Via San Pietro: here you will see the arch of the Roman bridge, the forum and the theatre. Near Via Claudia there are the baths, one of the most important buildings of ancient Romans' life.
The archaeological jewel of Concordia is the square with the ruins of Trichora Martyrium of the mid-fourth century D.C., a building constructed to commemorate the martyrs of the Diocleziano's persecution, and with the St. Stephen Cathedral of tenth century. Under the Cathedral you have the opportunity to visit the ruins of the Basilica of the fourth century with its precious mosaics, built on an earlier Roman house. The beautiful square is completed by the bell tower 28 meters high in Roman style and by the Baptistery of late XI century in Byzantine style, with well-preserved frescoes and a baptismal font.
To conclude the tour of Concordia Sagittaria you can visit the Archaeological Museum, where there is a remarkable collection of ruins from the town's necropolis: steles, inscriptions and funeral urns, flooring's remains and an original sundial.
Directions to Concordia Sagittaria