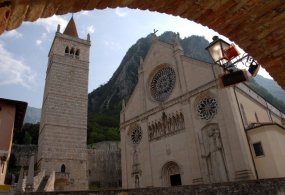 Region: Friuli-Venezia Giulia
Elevation: 272 m a.s.l.
Area: 56,21 km²
Population: 11.241 (as of December, 2010)
Time zone: CET, UTC+1
Gentilic: Gemonesi
Patron: Sant'Antonio
Patron-Day: June 13

Gemona del Friuli rises on the mountainside of Prealpi Giulie and its country offers tourists the chance to make many excursions in the nature, as well as visits to nearby towns and villages.
Gemona has a very ancient history, even if it is not possible to date precisely the first village that was in this area.
Since prehistoric times was Gemona one of the main passage of the street that from the Adriatic Sea headed to the north-east Alps.
The first Celtic settlements can be classified around 500 BC in the current village, that today is called Godo. That's where is present the fountain Silans (Silans in Latin literally means spring), that confirms that also in Roman time the Via Julia Augusta went through these lands. This thesis is also confirmed by the numerous archaeological remains, that have been found in this area.
In the second half of the twelfth century it was a free city, with its statutes, while in the thirteenth and fourteenth centuries it was an important centre of commerce under the Patriarchate of Aquileia. The prosperity made it an important centre, with churches and mansions, with walls and a castel.
After the conquest by the Republic of Venice in 1420, commercial traffics decreased and began the decline of the city, until the recovery in the second half of the twentieth century.
Unfortunately, this recovery did not last long: in 1976 two earthquakes devastated it, together with other small towns in Friuli. As the epicentre of the quake was located near the city, Gemona became notorious as the capital of the earthquake. Despite the great devastation, the city, as its neighbour Venzone, reborn with the most part of destroyed buildings.

A trip in Gemona starts from the Cathedral of Santa Maria Assunta, built on a precedent church between 1290 and 1337. The façade is adorned with three rose windows, and the central one was realized in Venice between 1334 and 1336, and with the Renaissance portal.
Near the Cathedral rises the Bell Tower built between 1341 and 1369 and completely destroyed by the earthquake, but rebuilt with its original parts.
The Museum of the Cathedral and treasure of the Duomo are in the hold parsonage and are open to the public since 2006. In the Museum there is the oldest baptismal register of the world of 1379 (the first baptism is recorded March, 3rd, 1379), an exceptional witness for the history of the city.
Directions to Gemona